Hey, y'all—happy Tuesday to you. Just in case you're a normal adult human and avoid making countdown calendars tied to the NBA schedule, there are 19 days left in the regular season. I know because I've gone ahead and counted. I genuinely have no clue what's going to happen once we start the playoffs and I really love it.
That said, some things—like likely award candidates—are starting to come into focus. And with that in mind, I wanted to break down how I view one of the tighter races playing out or, at least how I'm leaning in terms of a potential vote with about 10 games left. Let's break down the Sixth Man of the Year race. (Rest assured that I'll use this space to do the same thing with the hotly contested MVP race sometime soon.)
If you're reading this on SI.com, you can sign up to get Chris Herring's free newsletter in your inbox each week at SI.com/newsletters.
Guys who stand out but fall short in one way or another
I know I'm not alone in thinking this: Not enough defense-minded guys win this award. Andre Iguodala should've won it in 2017, and Taj Gibson had a great case back in '14. Their snubs laid bare what's long been obvious: You've generally gotta be able to score in bunches to have a shot of winning Sixth Man hardware.
Historically speaking, you can score, play no defense and win the award. But if you're limited on offense and a great defender, it's a different story. For that reason, someone like Chicago's Alex Caruso (5.6 points and three assists per game, on 44.5% shooting and 36.1% from three-point range) won't be much of a factor in these conversations, though he's one of the most enjoyable players in the league to watch because of how hard he works on D. Another good defender, Golden State's Donte DiVincenzo (9.3 points, 3.4 assists per game), likely won't either, despite being a 40% shooter from beyond the arc.
For other guys, it's not as much about their strengths and weaknesses as much as how often (or when) they've started as opposed to coming off the bench. Sixers guard Tyrese Maxey (20 points, 3.5 assists), for instance, looked like a bona fide candidate for the award and would have garnered votes had coach Doc Rivers kept him coming off the bench. But with his reentry into the starting lineup earlier in the month, he's going to finish with too many starts to be eligible. The case of Russell Westbrook, a reserve with the Lakers but now a starter with the Clippers, seems too complicated and up-and-down to ultimately be an award-winning effort.
Ironically, Knicks wing Josh Hart would be an ideal candidate … if he'd played at this borderline-ridiculous level earlier in the season and not been a starter with the Blazers all year before being traded to New York.
The almost finalists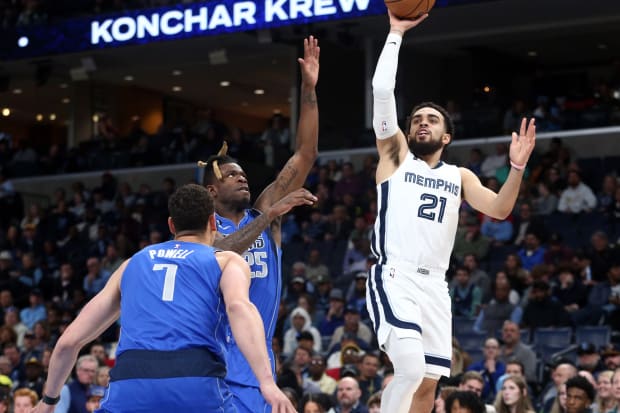 I'd love to see Grizzlies floor general Tyus Jones, perhaps the NBA's best backup point guard, win this award someday. (I'd also love to see him become a starter, much like Monte Morris did upon being traded to the Wizards.) He's perennially had one of the league's best assist-to-turnover ratios and is a good shooter, a solid defender and durable year-in, year-out.
That latter fact is enormous for Memphis, given the time Ja Morant's missed each of the last two seasons. (You'll recall that the Grizzlies were 20–5 without their superstar during the 2021–22 campaign, largely because of their vastly improved defense without him and Jones's steadiness.) Still, I don't expect his 10.4 points and five assists on efficient shooting to be enough to reach the finalist stage.
Despite Christian Wood having good offensive numbers, he probably won't get there, either. (Mavs coach Jason Kidd cut back on his minutes at times, which didn't help his case.) Bruce Brown, a perfect fit for the Nuggets in every way after signing with them this summer, looked like a solid candidate for part of the season but has stumbled a bit since the All-Star break. The cooldown happened even sooner for Indiana reserve Bennedict Mathurin, who averaged 20 points per game over the season's first month. That's understandable, though: Mathurin is still a rookie, one who's still learning to impact the game beyond his scoring alone.
The could-be finalists
Milwaukee's Bobby Portis has been in the conversation all season, and deservedly so, with him averaging close to 14 points and 10 rebounds per night. He's been highly productive, even in the minutes when superstar Giannis Antetokounmpo isn't on the court. Over the 700 or so minutes Portis has been paired along with Defensive Player of the Year candidate Brook Lopez—but without Giannis—the Bucks have outscored opponents by about five points per 100 possessions, according to PBP Stats. That's massive, especially when taking into account that star forward Khris Middleton was also out for enormous chunks of time throughout the campaign.
Props, or a potential spot as a finalist, are also in order for Kings guard Malik Monk, who's assisted and gotten to the line at a career-best clip despite playing fewer than 23 minutes per night.
He's had highlights, like the 45-point game last month in which he hit an absolutely cold-blooded, game-tying triple on the road to force overtime against the Clippers. But he's also been relatively solid from one night to the next and often closes games as a key scorer in what's been the most efficient offense in NBA history.
Clippers wing Norman Powell, at 16.6 points per game on 41% shooting from deep, looked like he was on a trajectory to potentially win the award. He absolutely took over a number of contests on occasions where one of Paul George or Kawhi Leonard, and sometimes both, were out. But his injury status—he's missed nearly all of March and won't have his left shoulder reevaluated again until next week—will almost certainly leave him with fewer games and minutes than other top candidates.
The two I'm still deciding between
I'm essentially down to two candidates that I feel are most deserving: Knicks guard Immanuel Quickley and Boston's Malcolm Brogdon. I think either guy would be represent a shift away from merely picking one of the league's highest-scoring bench guys, as these two play defense and impact their teams beyond just finding the basket on their own accord. That alone is refreshing.
It's also refreshing that there's an actual debate to be had between the two of them. Brogdon, my preseason pick to take the award, oftentimes perfectly fills the ballhandling void Boston had last postseason, when the club coughed the ball more times than statisticians could count during the NBA Finals. (Derrick White, who's mostly served as a starter this season, has also filled some of that void.) He's been a knockdown shooter from deep—he still could finish as the league leader in that regard, in fact—and, in a reduced role from his days as a starter, has managed to stay relatively healthy on a team that's been banged up for much of the year. His counting stats this season, on both per-36-minute and per-100-possession scales, aren't that far off from what Tyler Herro put up last year when winning the award.
Still, there's something to be said for having two established stars in Jayson Tatum and Jaylen Brown, who Brogdon often slots in next to. It feels a bit more like the 23-year-old Quickley is flat-out running the show for the Knicks a decent amount of the time. And when that's the case—with no Jalen Brunson, Julius Randle or RJ Barrett on the floor—the Knicks have managed to outscore opponents by 6.55 points per 100 possessions when Quickley is playing. (By contrast, the Celtics have lost by 5.18 points per 100 possessions when Brogdon is playing without Tatum and Brown. Boston's been about neutral in the 334 minutes Brogdon's played with those two.)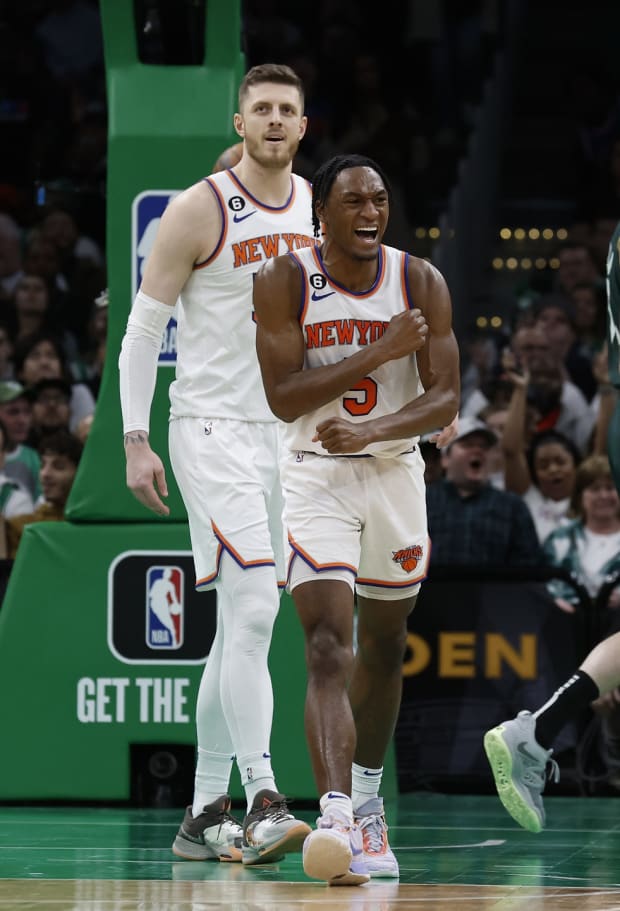 While Quickley still is overly ambitious at times—launching an ill-advised shot or fouling a three-point jump shooter like he did twice in a narrow loss Monday to the Timberwolves—he's shown a ton of growth as a scorer this season. He's connected on almost 50% of his shots (normally floaters) between 10 feet and 16 feet, a huge step up from 40% last season, and just 36% during his rookie campaign in 2020–21. And while his offense—13.7 points, 3.2 assists—is likely just enough to get him the recognition he needs for consideration, it's arguably his defense that makes the biggest difference. New York's defense is almost 11 points better per 100 possessions when Quickley is on the court, putting him in the league's 99th percentile in that regard, according to Cleaning the Glass. It also helps his case that he's played more than 2,000 minutes so far, whereas most of his competitors for the honor—Brogdon included—are still a touch under 1,600 minutes on the campaign.
I'll readily admit that, based on all this, I have Quickley ahead for Sixth Man of the Year for now. But I'm also happy to have another couple of weeks before the season ends, just in case Brogdon goes on a tear or Quickley begins to slump. Things are close enough to where either could still play themselves into or out of the award. And that's fun.
Meat and potatoes: Good reads from SI and elsewhere this past week
• Chris Mannix wrote a longform feature on Donovan Mitchell and the Cavaliers, explaining how the club has unexpectedly become a contender in its first year with this core cast of young players.
• Mannix and Rohan Nadkarni each had columns on Ja Morant's suspension, and what it all means for the Grizzlies and Morant himself.
• I wrote about Kristaps Porziņģis, who's stayed healthy and has pieced together a career season for the Wizards. His offensive numbers in the post—and his defensive ones while protecting the rim—have been dominant.
• Michael Rosenberg had a Daily Cover on South Carolina superstar Aliyah Boston's photographic memory as the NCAA women's tournament kicked off.
• Emma Baccellieri wrote about the top moments and surprises from the NCAA women's tournament's first round.
• Kyle Wood handled our NBA power rankings for the week.
• CBS Sports posted an incredible split-screen video of Kevin Harlan calling the closing seconds of Furman's upset victory over Virginia last week. He is so damn good at his job, and, if you enjoy sports in the slightest (and don't necessarily root for Virginia), you'll enjoy watching it much like I did.
• Tim Cato of The Athletic came up with five ideas to fix the topsy-turvy Mavs, who are in the midst of a season that seems to be going off the rails.
• From Joe Mussatto at The Oklahoman: The Thunder have perfected the art of taking a charge on defense.
• Ohm Youngmisuk and Nick DePaula from ESPN wrote on something that was near and dear to my heart as a teenager: Eastbay magazine, which helped feed America's growing sneaker culture before the internet exploded into what it is now.
• Jabari Young from Forbes spent a few days with Clippers owner Steve Ballmer and spoke with him on a number of issues.
• Sopan Deb of The New York Times had a Q&A with Celtics star Jaylen Brown, which delved into his activism and his feelings on being Black in Boston.
• My friend Omari Sankofa II of the Detroit Free Press highlighted something worth watching: the Pistons' use of lineups with both rookie Jalen Duren and 2020 No. 2 pick James Wiseman—a pair of bigs who are still just getting their feet wet but possess loads of talent and potential..